Fri, 09/14/2018 - 5:12pm
CURRENT PARKING LOT INFORMATION:
---
Elliott Avenue will be reduced to one lane of traffic from Thursday, May 16 through Friday, May 24.
---
TENNIS COURT CLOSURE/SRT RELOCATION/PARKING UPDATES – (can also be found on the District Police Website at https://pr.santarosa.edu/parking-update-april-2019)
The tennis courts will be converted to parking beginning Wednesday, April 24th.  This lot will initially be used for the SRT Pavilion through the end of summer 2019. Parking will be available for faculty beginning in the fall of 2019.  Upon the completion of the SRT performances, this area will be converted to additional temporary parking, opening up additional spaces.
---
LOT C PARKING LOT CLOSURE
STARTING 4/15/19 
DURATION: REST OF SPRING SEMESTER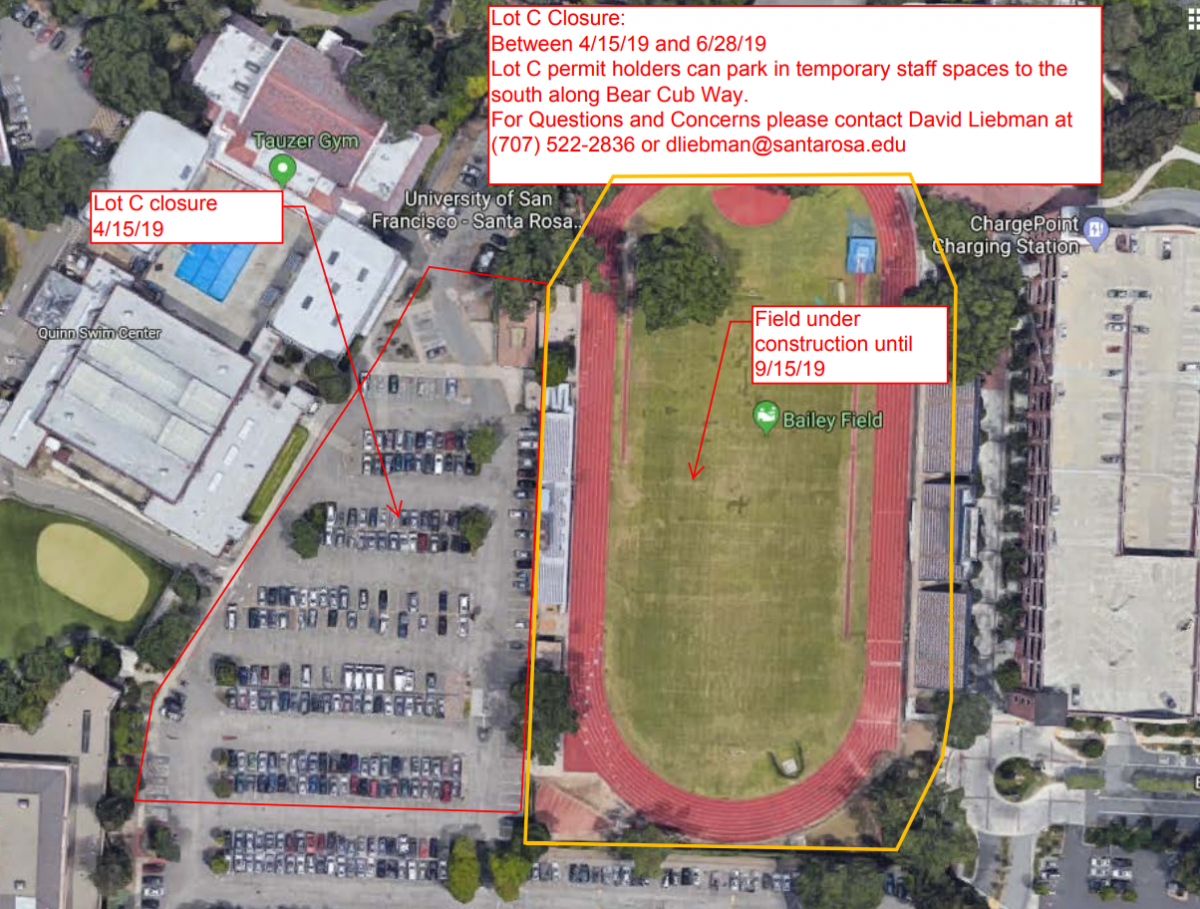 ---
All Lot C Permit holders will be able to park in temporary staff spaces to the south of Lot C without being ticketed. This only applies to Lot C permit holders.

---
Temporary ADA spaces have been made on the west side of Tauzer to replace the ADA spaces closed during Lot C Construction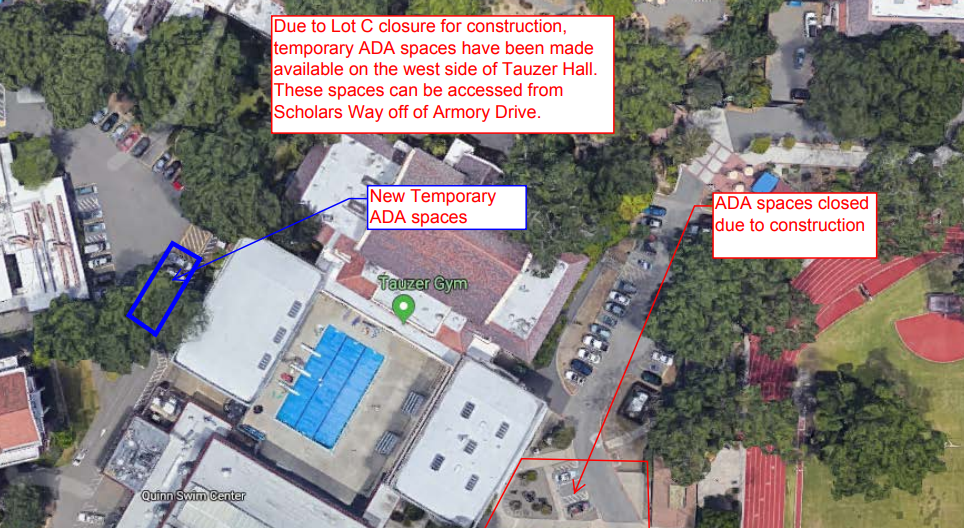 ---
Reminder: Students can park for free at the 7th street parking garage and get their day pass at the student life and engagement desk, Bertolini First Floor.
Reminder: New parking lot at McConnell Ave and Mendocino Ave, across from the Little Caesars, as well as the lot next to Santa Rosa High School.
---
FREE OFF SITE PARKING AVAILABLE:
The City of Santa Rosa 7th Street parking garage is free for students.
The garage is located at: 521 7th St, Santa Rosa, CA 95401 (See image below)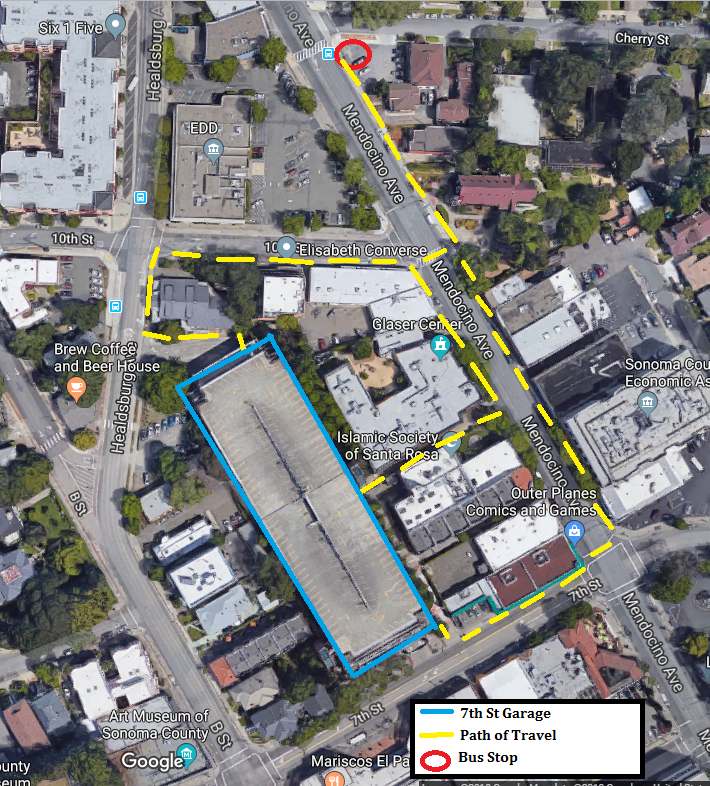 After parking at the garage, use the bus to get to the Santa Rosa Campus.
Board the Santa Rosa Citybus Route 1 from the Cherry St bus stop. This is a free bus for students 
This Bus comes every 15 minutes and is only a short trip to the SRJC
You can get a weeks worth of free passes to the Santa Rosa City Garage from either:
Student Affairs (Located on the first floor of Bertolini) OR
Accounting (Located in Bailey Hall) 
The Santa Rosa City Bus can take you back to the garage (see image below)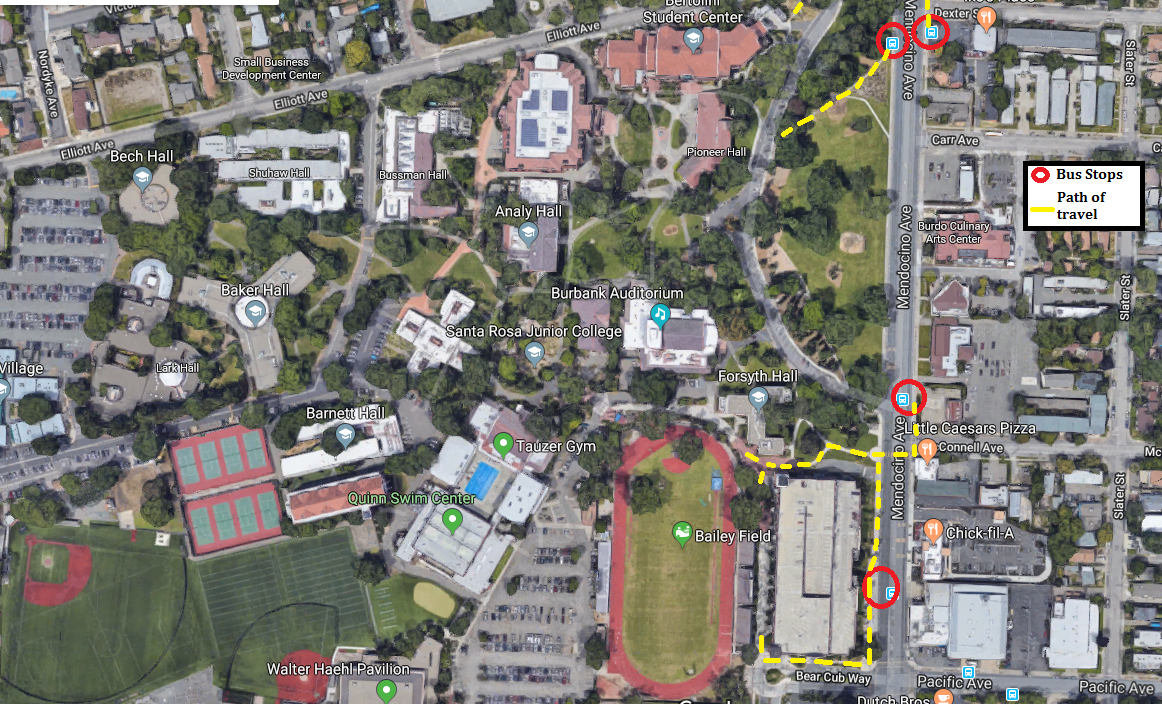 For more information on bus schedules and maps go to: https://www.srcity.org/1661/Maps-and-Schedules
---